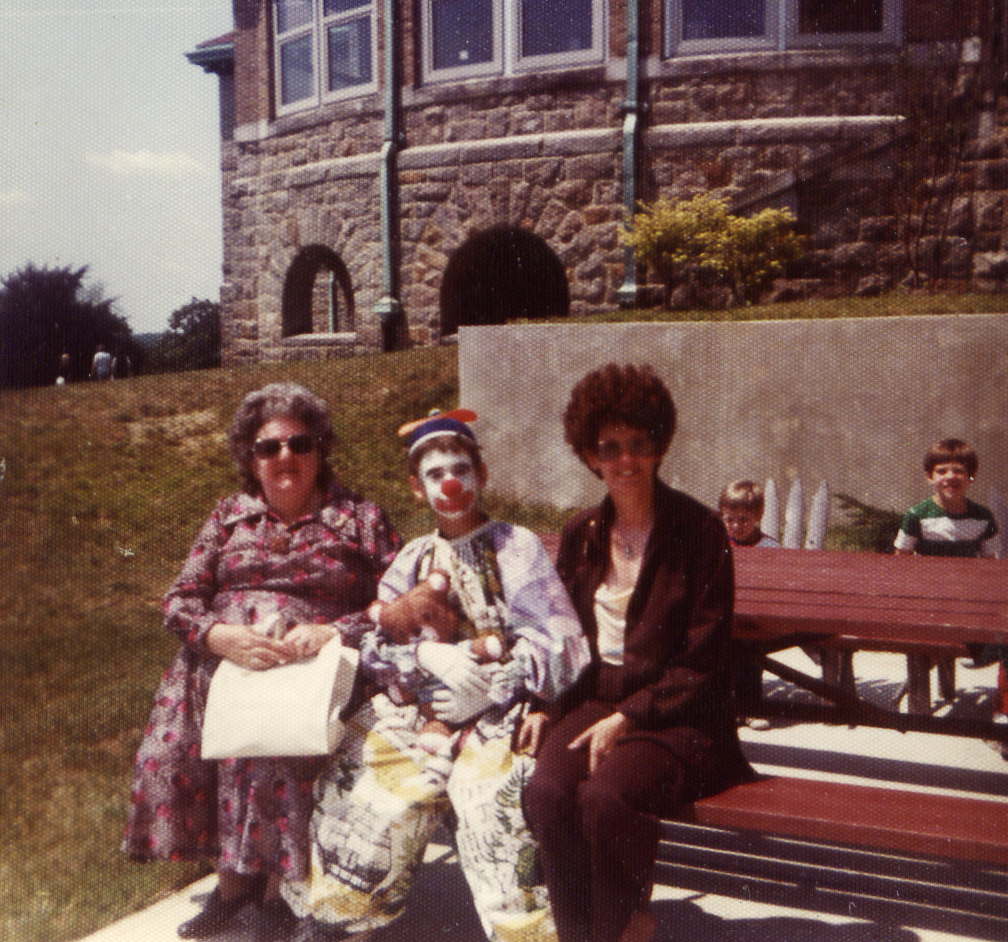 Began clowning in his hometown of Naugatuck, Connecticut during the summer of 1977 at the age of 10.
Formed his own clown troupe, "The Colossal Clowns", in 1981 with 4 other teens.
Started performing at the Circus World theme park near Orlando, Florida the day after graduating from high school in 1985.
Graduated from the Ringling Brothers and Barnum and Bailey Circus' Clown College class of 1985 at the age of 18
clowned on the Red unit of Ringling Brothers and Barnum and Bailey Circus from 1986 through 1989 and also represented both the Red and Blue units as an "advance clown" through 2013.
taught stiltwalking, makeup, and clowning at the Clown College in 1988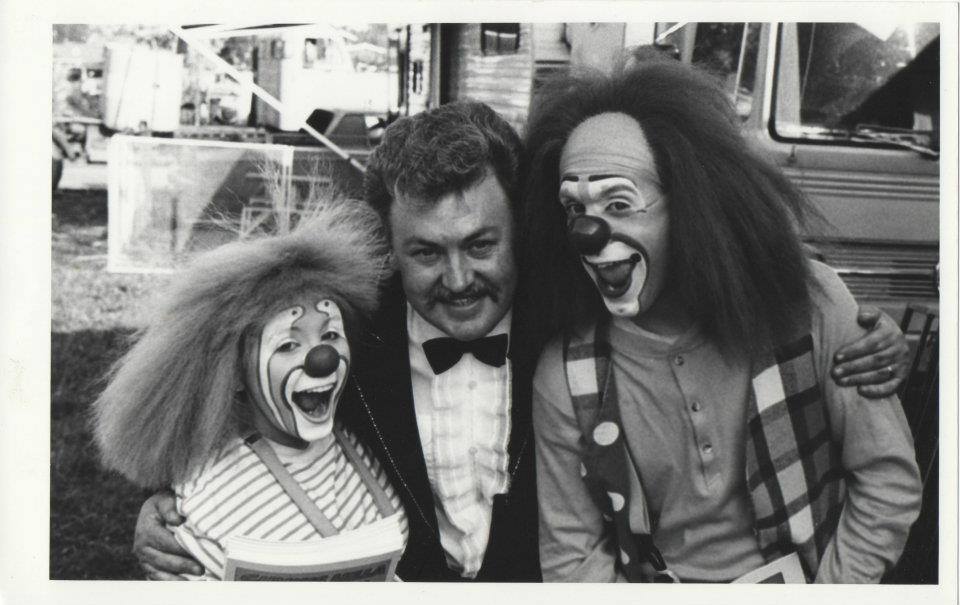 was the Boss Clown for Cirkus Olympia in Sweden for 1990 and 1991.
performed for several months in late 1990/early 1991 at the Carnival Plaza in Tokyo, Japan.
produced and starred in "The Circus Of Clowns" at Riverside Amusement Park (Massachusetts) during the 1992 and 1993 seasons.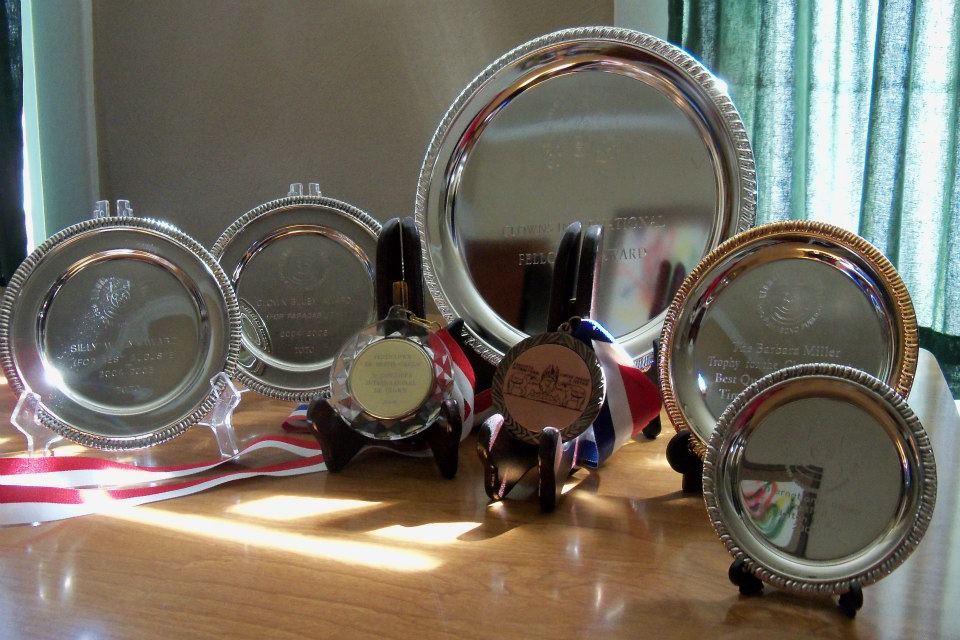 won a Bronze medal for his clowning at the Sarasota International Circus Festival and Parade in 1993/1994.
had the lead role of "Zed" in the 1994 production of "The Police Academy Live Action Stunt Show" at Six Flags Over Georgia.
was one of only 5 performers featured at the Circus Circus casino near Tunica, Mississippi from 1994 until 1996.
performed aboard the Silja Scandinavia cruise ship in 1996, touring between Finland and Sweden.
became a 13 ½ inch tall, limited edition sculpture in 1999, created by artist/sculptor Ron Lee.
taught a workshop on physical comedy and represented the USA in the international gala show during the Bolton International Clowns Festival (England) in September 2001.
represented the USA at the international clown festival held in the town of Praia da Vito'ria on the island of Terceira in the Azores of Portugal in August of 2002, 2004, and 2008.
joined 4 other American clowns in presenting stage shows, workshops, and strolling entertainment at the National Cultural Festival of Japan held throughout Fukuoka Prefecture in November 2004.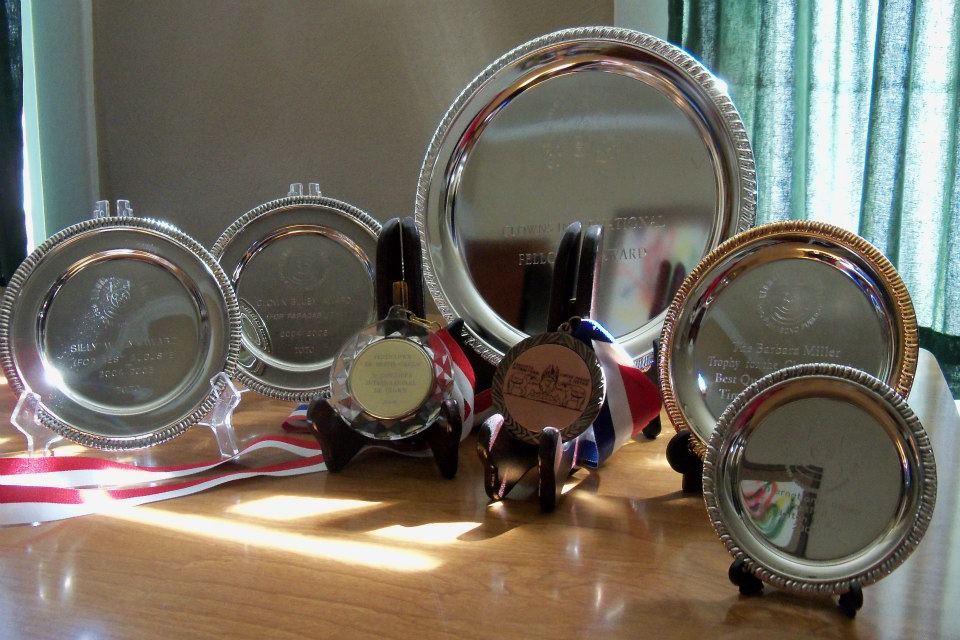 received the "Clown Bluey" award for "Best Parade Performance 2004/2005", the "Silly Willy" award for "Best Auguste 2004/2005", and the 2009 "Barbara Miller Trophy" for "the clown showing best qualities of attack, timing, and precision" from the world's oldest clown organization, "Clowns International".
spent September 2005 performing and holding workshops at international clown festivals in Ulft, Holland and Weston-super- Mare, England.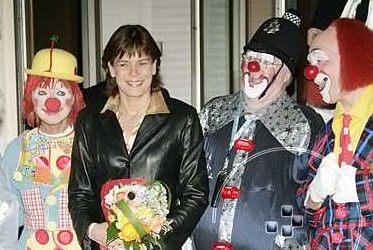 traveled to Monaco in April 2006 to perform in the Princess Grace Theater as an honored guest of Princess Stephanie of Monaco and the 3rd "Festiclown de Monte-Carlo", becoming the first American to receive this honor.
brought a bit of his "world" through the magic of the red nose to a Masai village on the rim of the Ngorongoro Crater in Tanzania (Africa) in September 2006.
made history in May 2007 by performing at the "Happy Liuzhou International Clown Festival", the very first international clown festival ever to be held in China.
returned to China in September 2007 to do a promotional tour for and then perform at the "Happy Tiandu AEMI World Clown Festival" in Tiandu City, Hangzhou, Zhejiang Province.
was the opening act on stage at the "Happy Huangguoshu 2008 International Circus Carnival" held in Huangguoshu, Guizhou Province, China in May 2008.
helped organize, trained volunteers, and performed at the "2008 Hangzhou AEMI World Clown Festival" held in Hangzhou, Zhejiang, China during late September and early October 2008.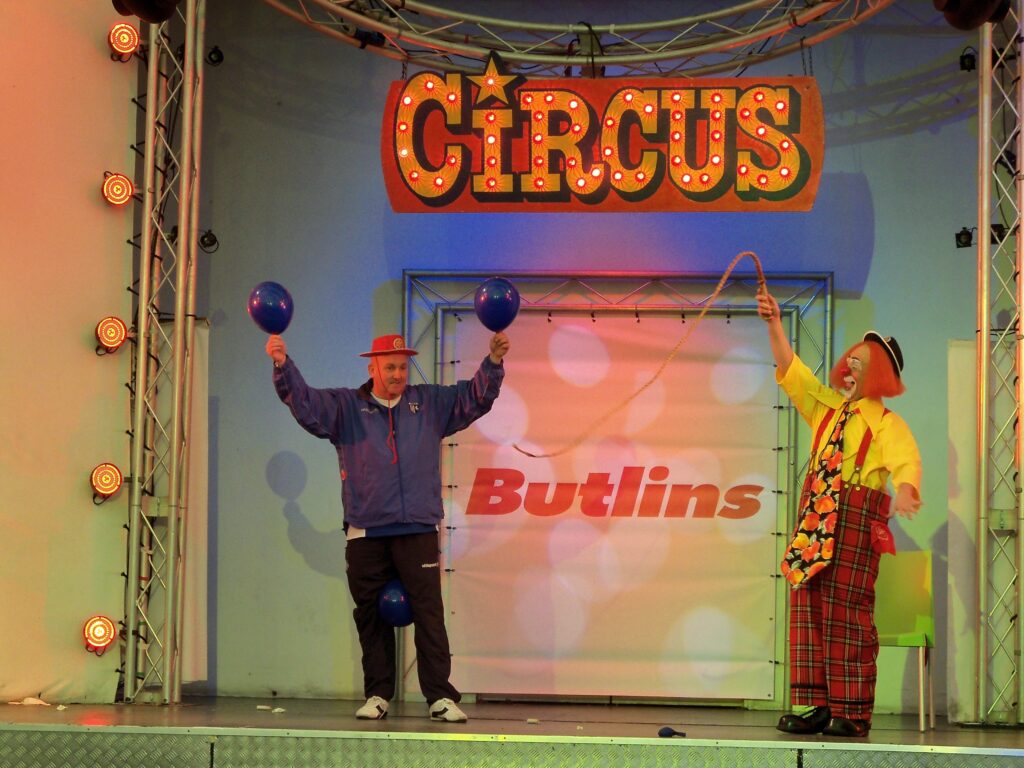 visited schools, held workshops, and performed at the "Circus Circus Clowns Festival" at "Butlins" in Bognor Regis, England in March 2009, 2010, 2011, 2012, and 2013.
received the 2009 "Harry Dann Award" for "Best Picture Clown" from clownalley.net's online voting.
traveled to Shanghai, China in late September 2009 to promote and perform at the "2009 Shanghai Vogue Life Carnival".
performed in the ring of the Chapiteau Espace Fontvieille in Monaco during the 14th "Noel de Frankie…Le Festival des Clowns" in December 2010.
held workshops, entertained at hospital and charity events, did "meet and greet" at a shopping mall, and performed in theatre shows during the 2nd International Clown Festival to be held in Mumbai, India in late September and early October 2011.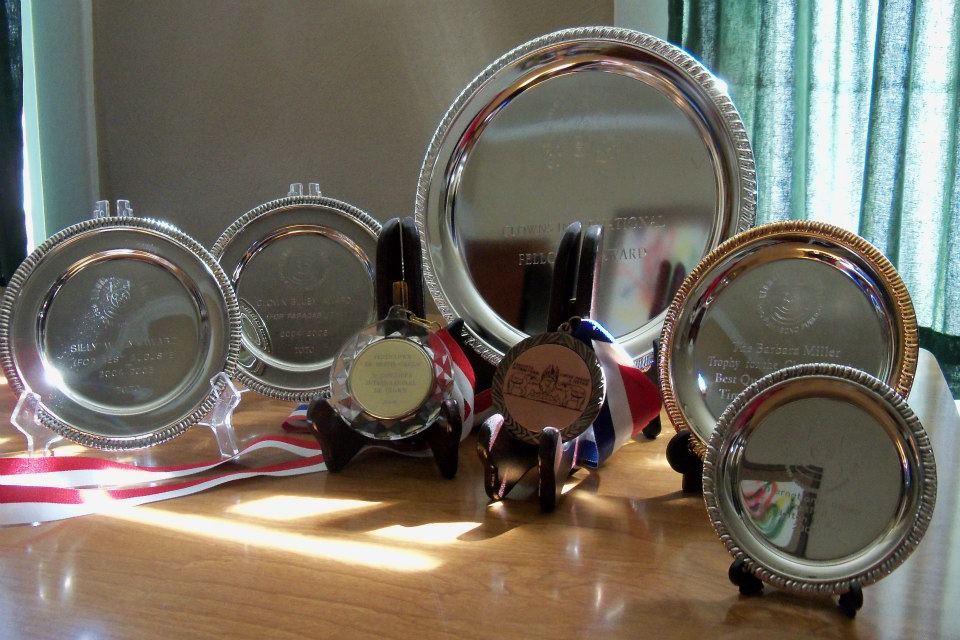 became the only American ever to receive the title of "Fellow of Clowns International" from the world's first and foremost clown organization in March 2013.
spent 32 days entertaining a million people across 6 cities as part of the 3rd International Clown Festival in India in October/November 2014.
entertained audiences attending the Clowns International Festival in Downpatrick, Northern Ireland in September 2015.
joined an international cast of clowns and comedy performers to perform at festivals in Shanghai, Nanxiang, and Yangzhou, China in September/October 2016.
was honored by the Circus Fans of America organization in 2017 with the creation of the Ron "Toto" Johnson National Digital Tent.
Acted as the Ronald McDonald Program Coordinator in eastern Iowa and western Illinois from November 1996 through December 2017 and was awarded the title of "Master Clown" by McDonald's in November 2016.
added science shows, workshops, and hands-on science stations to his offerings as "Professor Toto" through a partnership with "Absolute Science" starting in March 2018.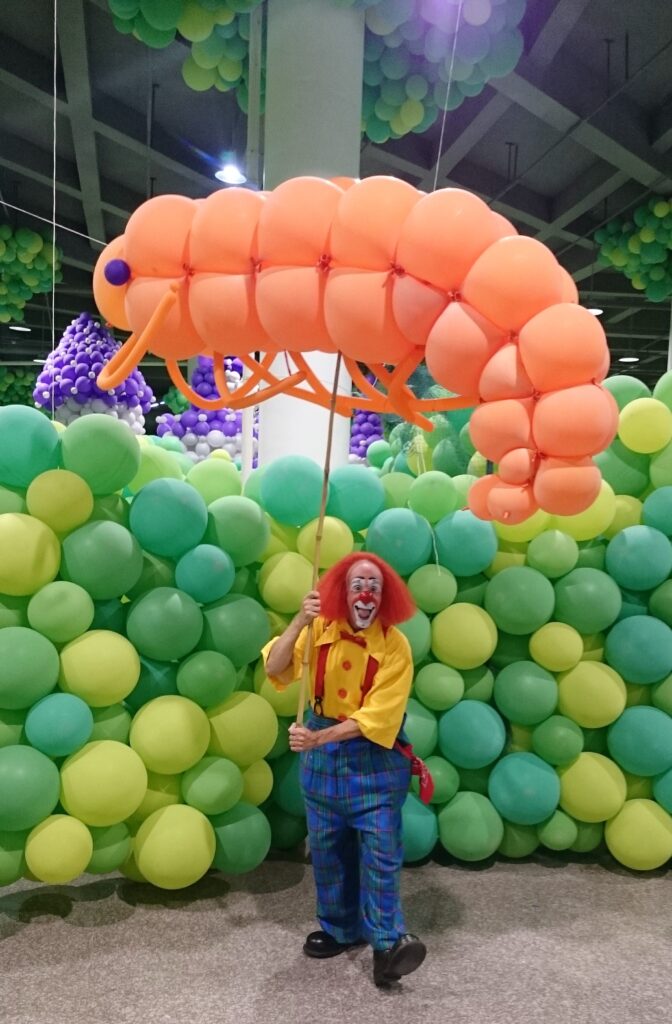 provided strolling entertainment as the sole clown performing at the "Xiamen Jimei AEMI Family Festival" in Xiamen, Fujian, China in October 2018.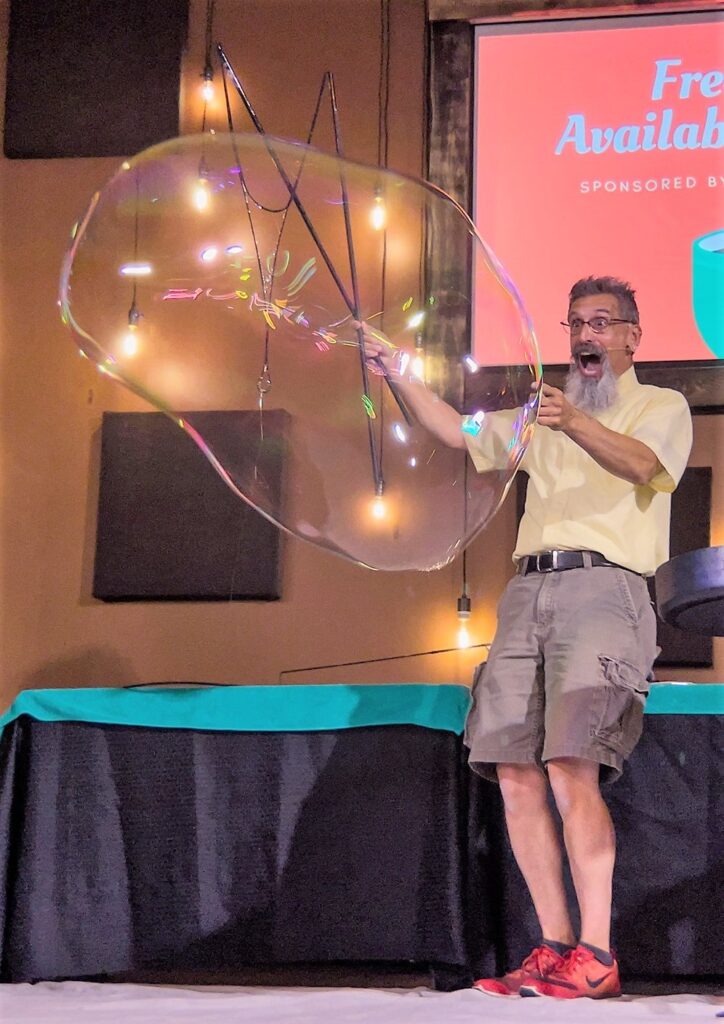 expanded his offerings to include bubble shows, bubble workshops, and hands-on bubble stations through "Big Bang Bubbles".
partnered with a clown from Taiwan to bring a duo clown show to the Star City Mall in Wuhan, Hubei, China in October 2019.
traveled to India in December 2019 to consult for and perform with the International Clown Festival's tour of malls and theaters across 5 cities.

continues to perform around the USA and the World for circuses, cruise ships, amusement parks, and much more.

Rutrum ut volutpat scelerisque auctor ultrices lectus ultrices ullamcorper massa diam etiam amet a, nulla pulvinar sapien.